Committee visit to sponsored families in Tamil Nadu
All committee members travelled from Paris to Chennai on the 17th of march 2016 and drove to Trichy.  After  heavy traffic jams in Chennai we arrived early afternoon at Trichy in Udhayam office where the Director Father Anthony Das, Father Samy, Francis Xavier and Jacob (social workers) welcomed us. Most of the sponsored families were waiting for us.
What a warm welcome ! We are delighted to see again so many smiling faces. Father Irudhaya Samy delivers a small speech, to welcome us and asks all attendants to pray in memory of Frederic Dussauze. We speak to them briefly to thank them. Very moving moment, full of compassion...
Then we move to Anthony Dass office where we meet each family one by one (20 families of Trichy area were present): we spend about 15 to 20 minutes with each family ; our local friends translating english to Tamil and vice versa. During those interviews we hand over to each of them his cheque and sponsor's letter .
Some small gifts are also given for the children : small dolls and toy cars for the youngest, coloured pencils or 4 colors pens for the oldest, and also some sweets.
It has been a busy day indeed for us, but for most of the families also because some of them had to travel long distances by bus, sometimes walking in the heat of the day.
We told the families that in the coming days we will visit them at home, Francis Xavier being the organizer.
Just one family (Paul Raj) cannot be visited, they are living in the far south, The son Lindo comes to meet us and he gives news of all the members of the families.
18th of march
We drive to Mutulaksmi's home located in a far away village. We have never been there in the past; we meet in the nearby city a social worker (a lady): she was the one to point out this case to us. She gets into our car and shows us the way; after many kilometers through rough roads.
On our way we can see how dry the countryside is. The monsoon, end of last year, didn't bring enough water. The consequence is very hard to bear in this country where agriculture is the main ressource. Lots of people died mostly due to suicide.
The reservoir on the photo should be full of water at this period of the year !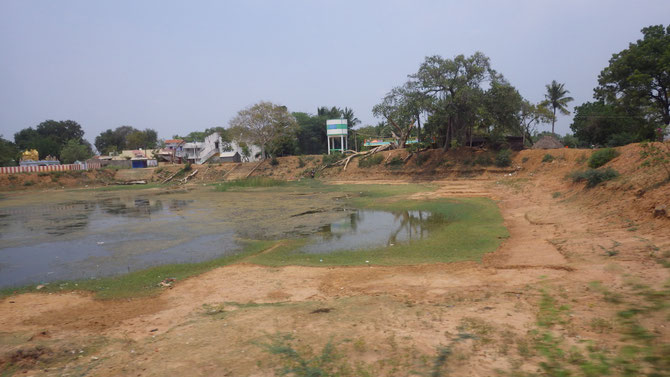 We arrive in the village where Mutulakshmi and her sister welcome us. It took us 3 full hours to get there !! The day before this old grand mother, Mutulakshmi, came to see us at Trichy with the social worker; it took them 12 hours to come  and return !!
We enter then a very small house ; the heat is unbearable !
2 boys, 13 and 11 years old. The youngest ,handicapped is sitting onto the ground.
Their parents killed themselves at one day interval; hence the grand mother has to take care of the two boys. The youngest cannot move his legs any more and does not have much strength when using his arms and hands: we were told that is was due to  typhoid fever caught years before.
The boys are studying in a boarding school, the eldest brother helps a lot his brother, carrying him or pushing him in the wheelchair.
Further medical checks will take place in may.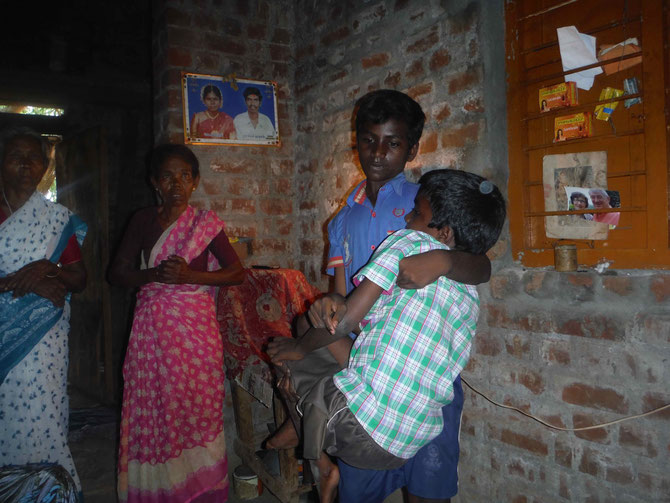 We then go to visit Subathra. She is a widow. Her house was badly damaged by the last monsoon: her sponsor sent us 500€ to allow her to proceed with necessary repair works; but as soon as the roof was removed, the walls collapsed! There were no foundations !
Now Subathra is fighting to get from the government a subsidy for a full reconstruction of her house... Case to be followed closely.
Afterwards we return to Trichy to visit Jacintha Ruby: she is a teacher; she takes care of the 2 daughters of her deceased brother; she has a very bad health. Because of that she cannot sleep at night after school: hence she spends part of the nights creating small articles  like cards, neck laces, paintings etc...she can then sell those articles. We will try to investigate on her disease.
A last visit for Julie. She has been living with her parents in a small room, since her husband died when she was pregnant of her second daughter. She has been handicapped for a few years after an accident, she manages to go back to work as a housekeeper in some houses.
19th of march.
Early morning we drove to Shanti Rani's home. Her mother Paulin Mary got infected by the Chikungunya last year and she still suffers .
Shanti Rani had a painful wrist (due to a fall).
Her daughter Philomen Mary is waiting for her divorce (her husband was a drunkard and used to beat her); she is working in a supermarket: her 2 daughters, 6 and 7 years old are charming cute and a bit funny.
We leave Trichy to get a village on the way to Tanjore where we visit 2 families:
Sara, with her mother in law and her daughters, are living in a small 2 rooms flat, at the 1st floor of a small building. She does some sewing and house keeping.
Her eldest daughter is a good student (computers). The youngest had an epilepsy crisis and since has one side paralyzed: thanks to physiotherapy she is getting better.
Then we meet Valarmathy in a small dark room where she cooks burning wood, very difficult to breathe there. Her husband is present; he does not drink any longer and work as a mason on job sites (but it is not a permanent job). Valarmathy works also sometime on the job sites. They earn about 6000 indian roupies and there are 5 of them at home; the grandmother was not at home that day.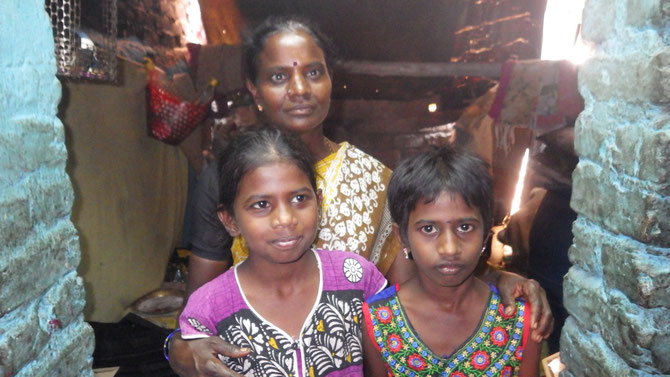 Later on we visit Mary Hilda's family. Her husband is cured now and has resumes working: he is a known specialist for disinfecting houses against mosquitoes, spiders, snakes etc..Mary Hilda is working in the nursery school where her children study.
The daughter Mary Jan is mental deficient and the son Mano is smart and cute.
We then drive to Tanjore where Arockia Mary is waiting for us with a nice lunch. Her parents are present together with her children: Stephen is a clever student ( BBA : Bachelor Business Administration ) and Sophia, very good at sports wants to become a sport teacher. Very dynamic family; they all have good hope to get a better life for the 2 kids.
We take advantage of our venue here to visit the magnificent temple of Tanjore.
20th of march
Early morning departure to Dindigul where we get to The Institute of Social Sciences whose director is Father Isaac (former Director of Udahayam when we started the association in 2005 ).
We meet there Visuvasammal and one of her grand daughter Anna: we met them last year in a small village midway between Trichy and Dindigul with father Isaac.
Visuvasammal is a mother of 7 children, 2 of them passed away.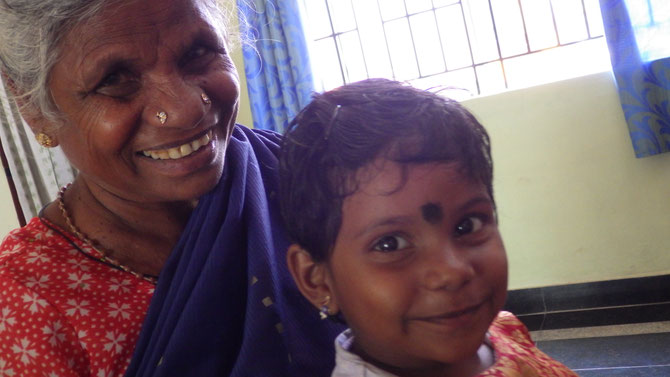 We have lunch with Fr Isaac and Fr Sathian (both of them used to be Directors of Udhayam) and afterwards we drive to a Nurse School where Abirami (sponsored since 2005) is about to get her diploma. She was not aware of our coming and was so happy : she gives Monique a big hug !!
She explaines to us that she is willing now to become specialized in psychiatry : it will take her 2 more years : she will study and work at the same time. For sure that is a very successful sponsorship. She commits herself to help her family (mother and sister) when she finishes her studies.
In the evening we get back to Udhayam in Trichy where we meet Vinodhini 's family. It has been decided not to go any more to her house because our visit, last year, has created some jealousy among her christian neighbours who do not understand why we are helping an Hindou family !!! Some fighting has taken place over there and we were concened not to get any news from her.
They arrive with their young daughter with the "touk touk" driven by her husband.
He rents this touk touk to earn his living.The little Kaniska is 2 and half year now: she is very cute and still " in love " with her dad.
Vinodhini is pregnant and she will deliver in june. The couple looks ok now and we feel reassured .
21st of march
We go and visit Anthony Lesima: she lost her husband in the tsunami and she remarried. She is the mother of 2 girls (from the first husband) and of one boy (from the second husband).
Her new husband is HIV positive, but she and her boy are not.
The husband is a mason, specialized in reinforced concrete. This is not a full time job.
Their house is solidly built on a parcel given by the government. Unfortunately her husband drinks, and beats his wife who takes refuge then in her daughters hostal.
He has been strongly scolded by FrSamy and the treasurer.
TNEN decides to give Anthony Lesima a cheque amounting to 150€ to allow her to buy a new sewing machine, which will help her earning her family living.
Back on the road again to meet Kalyani: she was alone when we arrived but very quickly surrounded by most of her neighbours. She is more and more skinny, often ill and getting fever. No job for her in the fields because of the drought. She gets goats and sells their meat. She is concerned by her daughter' baby because she has a tumour in her head: she is 1 and half years old and she cannot sit nor stand. Her second daughter is married to a coolie, she has a diploma (B Com); the 3d one is a nurse but she has to work for one year for the government (to pay back her studies ?). The last 2 continue studying.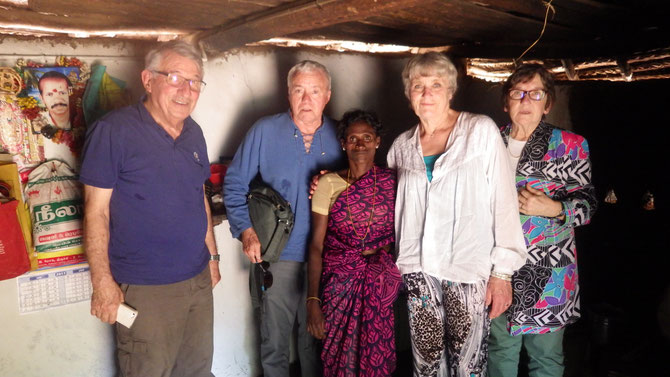 We then go to Irudhaya Mary's home. She still lives at her parents home with her 2 children, but she would like getting her own home because her dad who is very "dictatorial" does not go along well with her children: Dencil 17 years old is sitting soon for his exams before continuing for a BBA; Heny, 14 years old, very charming young lady studies in 10th standard. Taking into consideration the difficult family environment the sponsors make the decision to keep sponsoring Irudaya Mary. They have been sponsoring her since 2005.
A bit later we reach the village where the gypsies are staying. The government has managed to give each of them a small house (10 m²); they are provided with electricity in the house, but for the water they have to collect it at the entrance of the village.
We meet first Rengaraj and his family and his younger daughter the 10 months old Patchema. We meet also his sister (who had recently to face 2 miscarriages) and her husband. Rangaraj is still having huge debts contracted to pay his sister's dowry. He only manages to pay back the interests.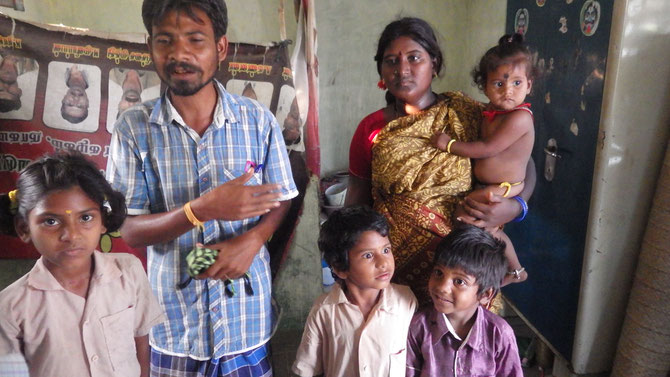 With his friends Kannan and Muniappan they keep selling "religious" objects they manufacture themselves.
Kannan's wife canot work as a coolie in the fields because of the drought: she only works under the "hundred days" principle (government pays 100 roupies per day, 100 days a year). Their eldest son has just finished his first year at college (engineering), other chidren continue studying at school.
Muniappan is recovering slowly from his brain clot and gets tired all the time. His eldest daughter got married without his consent but now their relationship is getting better: she comes and visits her parents from time to time.
We meet the other kids: 3 are going to school and the youngest one was happy to receive his toy car.
The only problem is that our visit to those families, where they live, creates problem within the community (jealousy): from now on we will meet them at Udhayam's place.
Afterwards we met Lakshmanan and his wife Periyakka both are blind: his wife's mother who used to help them in the past (she was not blind) passed away last january: the young daughter Elisabeth (5 years old) is now the only one capable to help her parents !!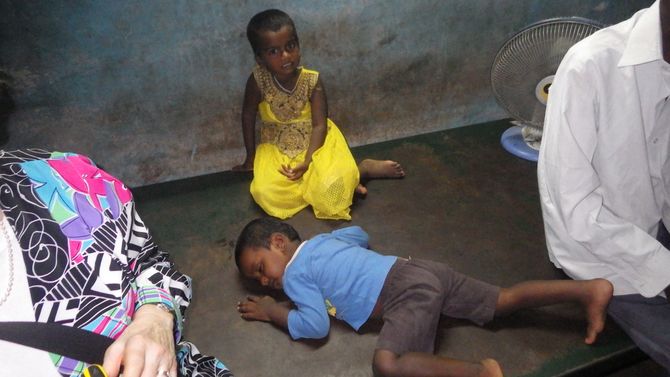 Periyakka's sister and her husband join us : both are blind also. We decid right away that this family will be sponsored: a new sponsor is to be found, in the mean time the association will sponsor them.
Back to Trichy we meet at Hospital Krithika the 14 years daughter of Ilangiyam: when she was 2 years old she swallowed kerosene...
Her condition has worsened a lot, she suffers very much. She was supposed to undergo an operation, but she is too weak for the time being.
She is being fed through perfusion and directly in the stomach.
Her parents had to sell their 2 cows and also all their jewels, and borrowed 300 €,  to be able to pay the hospital and the medical check ups.
The association decides on the spot to meet those expenses and issue a cheque of 300€.
Should the surgery be decided we will have to find the funds .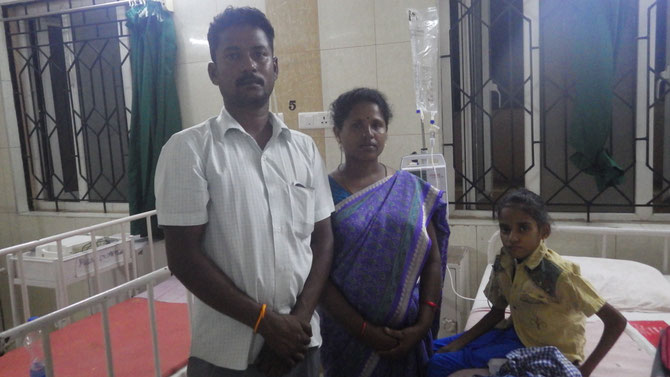 We leave the hospital exhausted by this long day and a bit sad.
22d of march
Close to Trichy we meet Silambayee, the grand mother who is taking care of her 16 years old grand daughter and her 4 years old grand son. The grand daughter works now in a super market, the grand mother stays with the young boy. Silambayee tells us that one day her grand son has been kidnapped in front of her by a man on a motor byke. Fortunately a witness managed to catch the kidnapper and get back the boy; now she is scared .. The little boy is very happy to play with the toy car we gave him.
Nearby we meet Kokila who still have a painful shoulder. She lives with her 2 children at her mother's flat: her brother, living next door, is jaleous and wants to get his mother's flat. He drinks and from time to time comes and beat his sister and his mother. Father Samy advises the grand mother to inform the police and file a complaint. The 2 children are ok and study at school.
A long road to get to Amsavalli. Her husband is polio handicapped. TNEN has financed 2 wheelchairs for him: one to be able to move around at home and a second one which will enable him to go on the road and hence get a job, hopefully.
When we arrive the chairs had been delivered ; the family was waiting for us to unpack them. The whole village was very happy when witnessing the joy of this poor fellow.
The mother and her 2 daughters gave us a very good rice.
The parents of the husband were there with us , very nice persons indeed.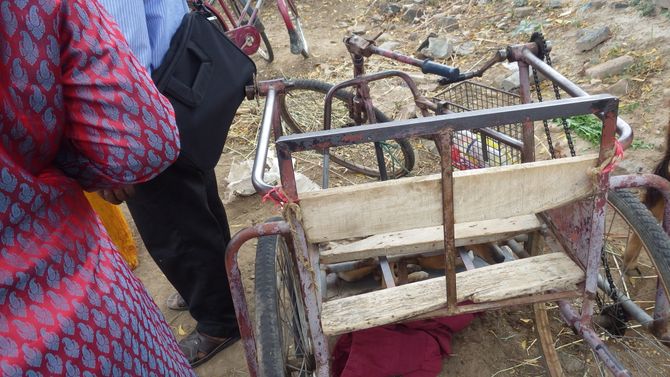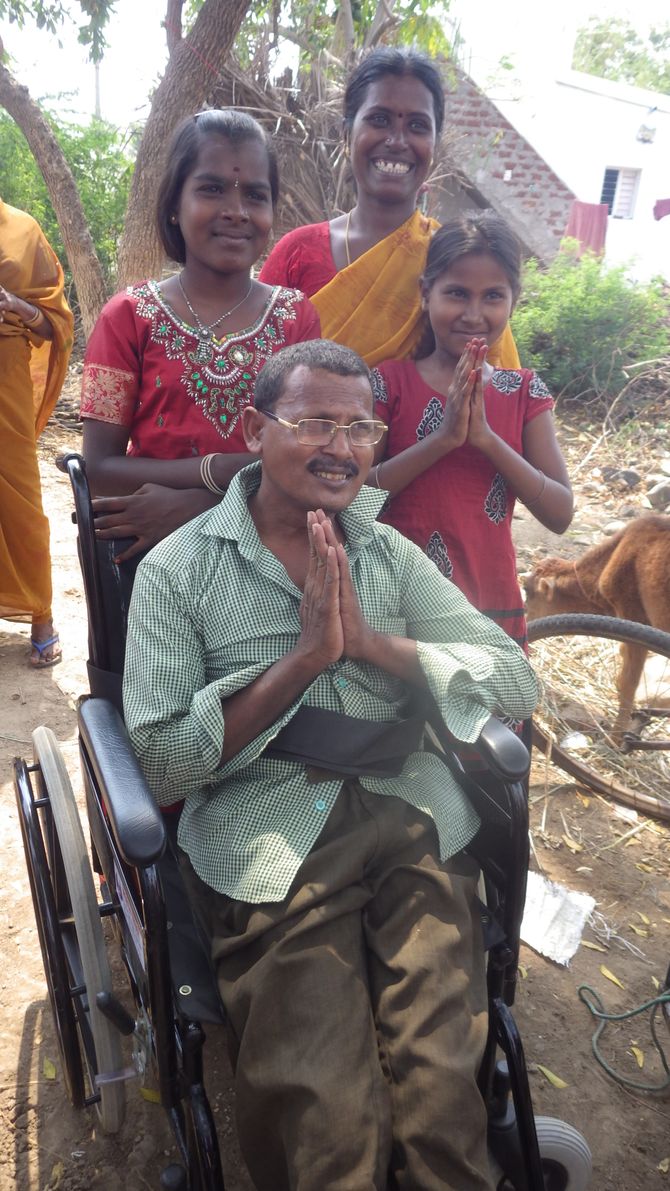 On the way back we visite the small street where Udhayam has organized small houses for families: houses in very bad condition.
We meet Madasamy, happy father of his eldest daughter: she is now a midwife and the other daughter studying Bcom (Bachelor in communication); in 2 years time she is hoping to work in a bank.
Madasamy's sponsor has decided to stop sponsoring him since the family is now on good tracks: only punctual help is provided from time to time.
Rosy Mary with her 3 children and her parents is living in a tiny house in extremely bad conditions; the roof is in danger of collapsing. For this reason Rosy Mary is looking for a flat to rent. She is looking for a safe flat, dryer than the house where she currently lives in: she suffers from asthma... To rent a flat she has to deposit as a guarantee 50000 indian roupies: her sponsors have decided to finance this amount.
Rubi the eldest daughter is a nurse now, Sebastian is studying Bcom, and the youngest, John Kennedy is trying to do small jobs.
She is helping her neighbour Adrine Mary who is a blind lady.
Then we go to Amalraj, whose mother has been sponsored by Pierre and Monique since 1986. His brother Susairaj is there with his daughter, he is able to manage now. The third one has been murdered a few years ago. Amalraj, who has 2 daughters, deserves to be helped.
Strong and affective links have been created between the 2 families over the years ; this moment was full of emotion : all of them gave letters and drawings concerning Frédéric's departure.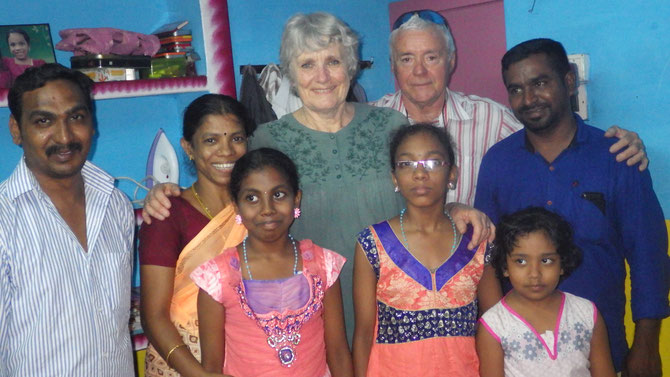 23d of march
We drive this morning to visit 3 families living in a Sri Lanka camp.
Seba, the director of the camp welcomes us: he had to flee the war in his country with his wife 26 years ago.
We all sit down in the church in front of the camp entrance; we are not allowed to enter the camp.
Victoria Agathamal comes to us with her daughter, soon to be in a nursing school. Her son wants to be a fitter. She is a very energetic lady, very helpful for her friends in the camp: she has been trained as a social worker to help drug addict children.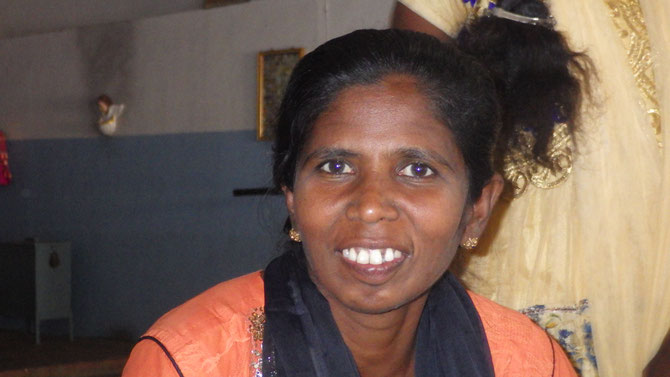 Antony Jeevaratinam joins us with his daughter Sissilia: she stop studying at school and does not know what to do later. Victoria might help her to make up her mind.
The second daughter is sick and staying at hospital in Chennai.
The mother came back recently to take care of her daughters but there is very little contact with het husband: Francis Xavier will meet them to see whether he can improve the situation.
Now it is the turn of Udaya Rani with her 2 smiling children: Rohit, 14 and Gibika 11, are getting good results at school. They like sport. Rohit is a Kabadi champion: they try to explain to us the rules of the game but it was easier to organize in front of us a  match in the church...even Francis Xavier took part, very funny indeed.
Udaya, to earn her living, fills up and carries bottles of water (20 liters) ! She loads a lorry. She works 15 to 20 days a month and earns about 3000  roupies a month.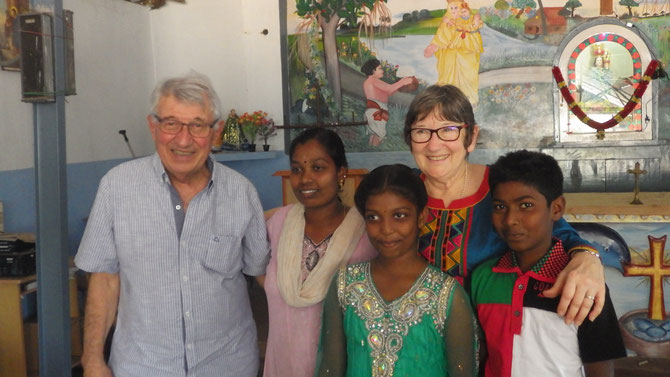 One of her brother passed away 4 years ago: she introduces to us her sister in law, mother of 4 daughters (19 to 13 y old): the eldest are studying in college, the youngest at school. She works as a house keeper and earns about 3000 roupies a month. Francis Xavier will send us a file for sponsoring her.
We have then an excellent meal, cooked by them, shared with them all: very pleasant atmosphere.
The last afternoon in Trichy is spent at Udhayam for the debriefing of our visits.
We review one by one all families met during our stay.
The most urgent  case is Krithika , Ilangiyam's daughter. Francis Xavier, after our departure, has managed to talk to the surgeon: he is very concerned and prefers to wait a bit longer until Krithika gets back some strength.
He will keep us informed: if a surgery is decided we will,organize a collection for her.
Regarding Mutulakshmi, we have the mail contact of the social worker we met: she will keep us posted about the cataract of Mutulakshmi and regarding the state of the little Ravee.
During our visits we have realized that it was not advisable to visit some villages where our presence might create problems locally: Father Samy and Francis Xavier are aware of the situation and will advise us accordingly.
This is our last evening in Trichy. Tomorrow we will drive early morning to Villupuram and Pondicherry.
24th of march
We arrive at Father's Felix parish (Villupuram) after 4 hours driving. The compound consists of a church, a school and the house where Father Felix is living.
During the meeting Father Nithyia explained to us that he has organized the construction of 20 small houses (10 m2 each): walls in concrete and roof built with corrugated iron. When we visited those house we realized that  the heat indide is almost unbearable. In spite of that they are all uninhabited. We will suggest to cover these roofs with palms in order to reduce a bit the heat…
We are pleased to meet again Arul Oli and with Farther Nithiya we go to visit Kalai Selvi: she is a young woman abandonned by her husband. She is living with her 8 years old daughter in a small hut surrounded by banana trees; walls look solid but the roof is made of palm leaves with a plastic cover. The young girl is very cute and smiling, playing with the small doll we gave her. She recites a poem in english; her mum who understands english works in the fields as a coolie. The grand ma, living next door joins us.
After a quick lunch we drove to Theli 15 km away from Villupuram to meet 2 families: 
Siriyapushpam, widow with 4 children (3 girls and 1 boy) : she breeds goats; because of the drought she cannot work as a coolie in the fields, hence she works for the government under the "hundred days" principle: 100 roupies a day, 100 days a year.
Her eldest daughter, 14 yold, is mentally retarded. The family occupies a " Nithiya" house.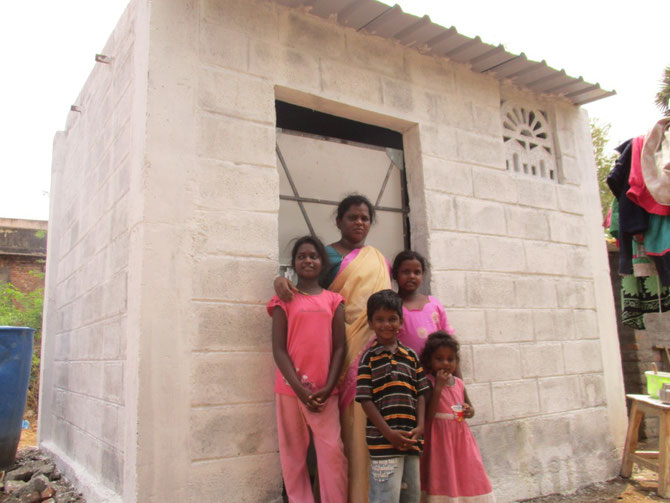 Magdalane is living very near: a big hut shared with her mother in law. Magdalane works as a coolie, she has 2 daughters. The roof is made of vegetal palm leaves. The eldest daughter is in 10th standard, the other girl in 7th Std. 
On the road again and we reach a village to meet 5 families.
Boopathy recently sponsored. She has to take care of her 2 grand daughters 15 and 11 years old: their father died from heart attack and the mum from cancer last year.
The 2 girls are studying : 11 Std and 7 Std respectively. The eldest would like to be a doctor and the youngest an engineer. They all live in the grand mother small house.
Maari a widow since 2013 is the mother of 3 girls: 14, 12, and 9 years old. The youngest had to undergo heart surgery, she is ok now. They live in a "Nithyia house".
Sivalingam: the couple is blind. The 2 daughters are very nice: Monisha the eldest, 5 years old is her parents eyes !! Her Dad puts his hand on Monisha shoulder and lets her guide him ! The mother is pregnant of a 3d child. Their hut has collapsed, so they are leaving at his mother in law's small house until they will be able to have a new house built.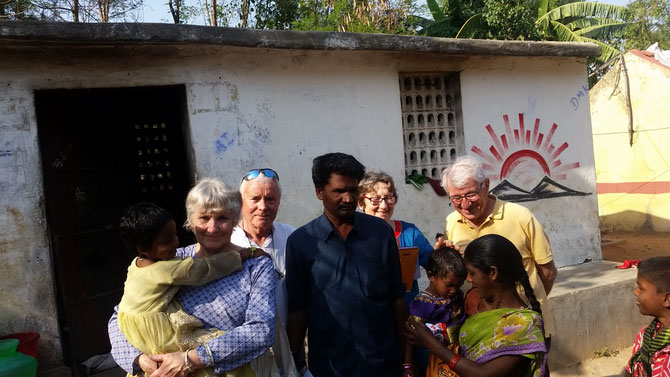 Kuppu: she is the mother of 3 daughters. Her husband and she are working on job sites far away from home (she came back from a site 350 km away to meet us). The 3 girls live on their own and have to manage by themselves. The youngest is in 4th Std (she had also heart surgery few months ago), the one in the middle is in 6th Std as the eldest who is 2 years late because she had to take care of her 2 younger sisters for 2 years. The girls are living in a "Nithyia hut ", very hot indeed !
Then we met Tenmozhi . She also has moved from her hut to live in a Nithyia house. She has a bad health. Her 2 daughters (10 and 8 years old) are very cute.
We drive next to a village located 3 kms away to meet Suvalai, 52 years old widow and mother of 2 daughters. She does not have good health. They are living in a hut made of mud wall and vegetal roof. Kuppu the eldest daughter 23 years old has stopped her studies to work and help her family. She works in a super market. The youngest daughter is 8 y.old. The family has just been sponsored hence Nithyia and Suvalai have been trying to convince her to resume her studies but she refused, she wants to get married.
On the road again to meet Devi. She is 32 years old, widow and mother of 2 daughters (12 and 6 y.old) at school 7th and 4th Std respectively. Devi can read. She is living in a hut at the end of the small path surrounded by monkeys who come and steal stuff in the hut !!
Few more kms to meet Savari Nathan: He is a young man, 17 y.old, eldest of 2 sisters: they lost their parents in 2008 and 2012. Their grand parents are now in charge. They are in 12, 10 and 9 Std respectively. The eldest wants to study electronic, Jencline wants to become a nun and Arokia Daisy a doctor. They all seem to be very mature.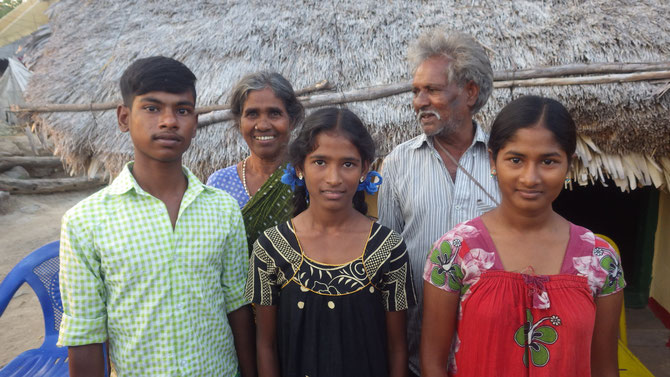 Just before leaving we meet a grand mother with 3 children to take care of; the mother passed away in a fire, the father abandonned the children... a family to find a sponsor urgently.
Tough day because of the heat mainly ( 40 C°!!)
25th of march
10 families are waiting our visit.
We go to Arul Oli's village where we meet his wife Jacqueline and his 3 children : 2 boys in 6 and 3 Std and a girl in 4th. The kids are very clever and understand english.
The house belongs to his brother, for the time being. The situation is a bit precarious for Arul Oli: sooner or later his brother will take back the house, hence Arul will have to built his own house in the garden. Arul Oli works a lot helping people on a voluntary basis. His wife works for the government on the hundred days principle. She has set up an association which lends money to the poorest (kind of micro credit).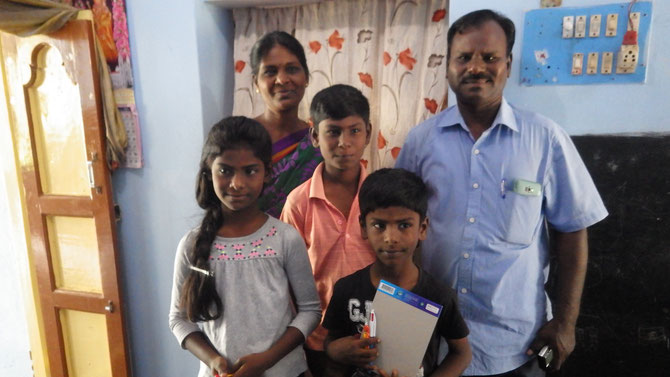 In the same village we meet Christa: recent sponsorship. She is widow, mother of 2 children: Livina, 7 y.old, sitting on the ground because she has got a wound at her foot ( infection due to a thorn) : she is having an antibiotic treatment. Her young brother Koushi stays with her most of the time. Christa breeds a cow, a heifer and chickens. Her parents are living next door.
A bit further (7 kms) we visit Aaron and his wife Rosalia. They have 3 children ; the eldest left them (he is 28 y.old), he lives n Chennaï. The 2 others  (a girl 18 y.old and a boy 15 y.old) are both mentally and physically deficient : they cannot stay sitted !! When we met them last year we were very moved by their situation and promised to them that the association will sponsor them:  we found a sponsor. Thanks to him the couple looks much better now; they have been given hope, they know that they are no longer alone. We have been very impressed by the  loving behaviour of those parents and their courage. They are teaching us a lesson…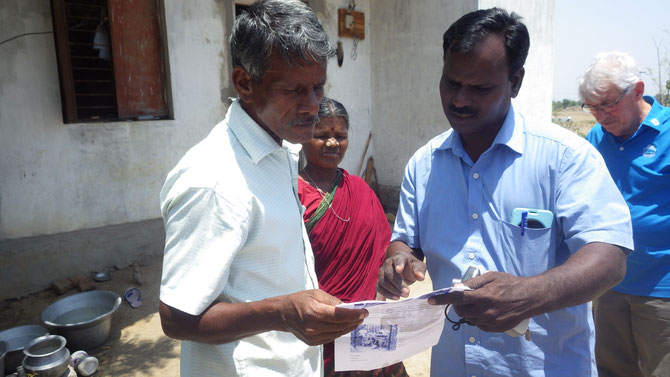 Then after we meet Leema Rose and Magimai Rani. Since last year those 2 ladies have become very close to each other. Magimai Rani is no longer set aside by the neighbours because of her HIV contamination. She took shelter at Leema Rose's small Nithyia house when the village people were building a new house for her; her house was demolished during the monsoon. The new hut is nice with solid wall and vegetal roof. Magimai's daughter, Evangeline is 6 y.old; she goes to school. She plays with the doll given to her last year by the sponsor: the doll has been decorated the hindou way with colored marks on its forehead.
Leema Rose is in bad health : her 2 daughters left for Chennai. We don't know whether they continue studying: Arul Oli will investigate urgently, and if they don't want to continue their studies, he will have them registered in a short training center (tailoring for example)!!
In the afternoon we visit Sharmila, young lady abandoned by her husband. She has 3 daughters. The father never comes to meet his children. When we give her the letter of her sponsor she reads it straight away: she reads and speaks good english... before getting married she managed to get a licence in english. She now decided to return to college to be able to teach english: should she be successful she will be able to earn a good salary. Her exam will take place in april 2017.
Her 2 daughters look as clever as their mum: the twin girls are 10y.old the youngest 7. They have good results at school.
This family has been sponsored for a year now: thanks to the sponsorship this family can expect good future prospects.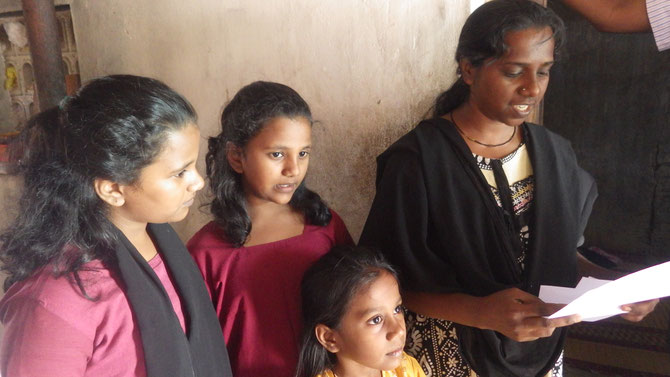 In a nearby village we meet 3 families:
Pushpa, destitute lady abandoned by her husband. Mother of Abitha 11 y.old daughter, 6th Std ,and Abishek 10 y.old boy in 3dStd. The boy is not very studious.
Pushpa is in bad health: she has been badly burnt when she was a child; she gets plenty of scars on her body. The family lives in a hut with vegetal walls and roof (palm leaves) The hut is full of many things ( odds and ends )!!
Jeevitha: 4 chidren. 2 eldest from her late husband's first marriage and 2 daughters she has had with him. The eldest daughter is studying at college Bcom, the son is in 11th Std and her 2 daughters in 6 and 4 Std. Since her sponsorship Jeevitha looks happier. She works also for the government : hundred days principle.
Gomathy, very recently sponsored. Very young lady (23 y.old) mother of 2 girls 6 y.old and 10 months old, very cute and dynamic girls. Her husband had a motor bike accident recently: he was badly wounded,  a broken arm and a heavy blow on the head: the head is still very painful and the bandage does look questionnable. The heat is unbearable, 40 C°. We asked Arul,Oli to follow him closely: in our opinion he should return urgently to hospital for medical check.
In this village, it's like a big family, they help each other.
On the photo we can see, from left to right : Gomathy and her 2 daughters, Pushpa and her 2 kids and Jeevitha.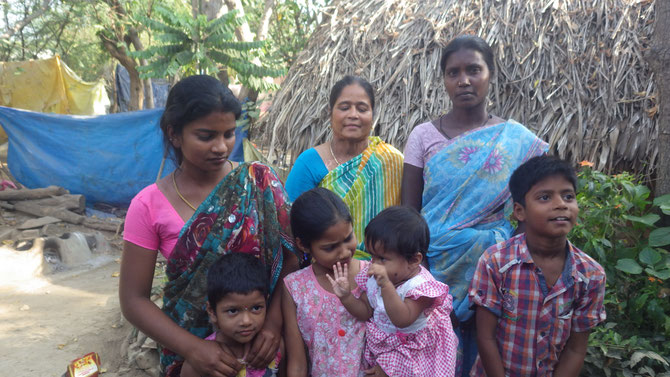 Before the end of the day we manage to visit one more family :
Josphin Mary, widow mother of 4: the 2 eldest are studying in an hostal, the 2 youngest are living with her in a hut (walls and roof are made from palm leaves).
The cooking takes place in the hut (by burning wood). She does not look very dynamic: one of her neighbour helps her and advises her.
26th of march
It is sunday.
A big meeting has been organized with all families sponsored in the Pondicherry area.
In a classroom in the school of the compound a mass is celebrated by Father Felix and Father Nithyia. A lot of pictures are taken  with each family.
Father Nithiya, Father Felix and Arul Oli adress the families, followed by us in turn: very moving moment : Frederic Dussauze was among all of us.
We were not able to meet 3 families in their places, because they live too far away, but they manage to come to this meeting :
Lourdhu Mary her 2 children were not able to come because of their studies.
Sagaya Rani came with her 2 daughters.
Abirami (we met her in her nursing school near Dindigul) came with her mother who is living in Chennaï.
Two more families have not been visited in their village, because last year we noticed that it creates some jealousy problem :
Deepa and Siva are there with their grand mother.
Leema and Lila young twins came with their mother.
We take some time to spend with each family.
Outside a picture is taken with all the participants : nice picture of almost 80 persons, followed by a lunch taken outside in the shade of trees. Father Felix's cook brought huge pans full of rice and mutton curry. After lunch a lot of moments shared with the families, plenty of smiles, thanks, gratefulness.... Many thanks conveyed to all the sponsors.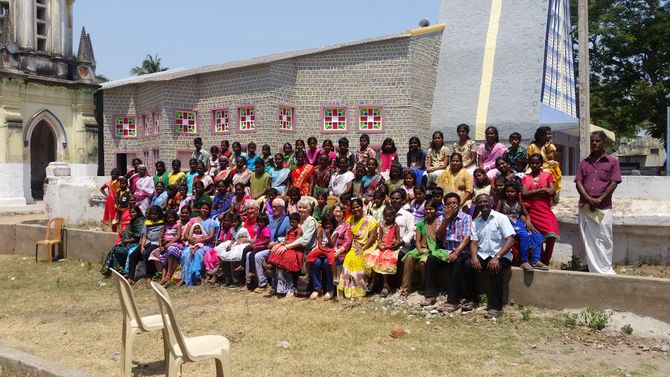 27th  of march
Our last day to visit families.
Close to Puducherry we meet Suganthi, young lady we have met yesterday with her daughters and her mother. She has been sponsored recently. Her husband being in huge debts committed suicide in september last year. He used to have a good job and their small 2 rooms flat was nice and convenient. She does not want to stay here because her husband died in the flat and the rental is too expensive. Her mother told her that she will reimburse the debts. Suganthi is handicapped (polio). One of her leg is deficient.
The government pays an allowance amounting to 1000 roupies a month: she is well educated. She speaks and writes english. Her family is very present. She expects to build a shelter on the roof of her sister's house nearby. Her daughters 10 and 7 y.old are clever, they study in a good school and can speak english.
Very close to Father Felix's compound we meet Immaculate Sophia: she became a widow following the suicide of her husband. She is the mother of 3 children, 10,8 and 4 y.old; they all live in a dark hut. We can see a picture of her late husband on the wall. She works in a gas station filling up cars tanks: 100 roupies a day. She is trying to get a better job and would like to be choosen for a job next to her house: organizing the canteen for the school in the compound of Father Felix (her children are going to this school). Father Felix is willing to recommand her for the job but the government is asking from all candidates to pay 50000 roupies to get the job. Father Felix says that it is a normal process in India !!
TNEN decides then to advance the money to her in order to allow her to secure the job. This advance will be reimbursed to TNEN by the sponsor's regular contributions to her. When she gets the job, it will be for life !! and, in addition, her children will have free lunch when at school.
In the afternoon we visit Maghimai the grand mother taking care of her 5 grand children: their mother died from tuberculosis and the father left.
Dashini (16 years) the youngest daughter of Maghimai, the auntie of the 5 kids is living with Maghimai, she is working to help her mother.
The 4 youngest are studying in an hostal where their grand mother visits them on weekends. The oldest of the 4 is a very good student: Father Felix considers that for her good it would be advisable to send her in an hostal in Puducherry. The sponsor's letter is read to Maghimai and the cheque given to her: she is very grateful to her sponsor. Small gifts are given to the children.
The whole family lives now in a good house, specially built for Maghimai thanks to a generous donator.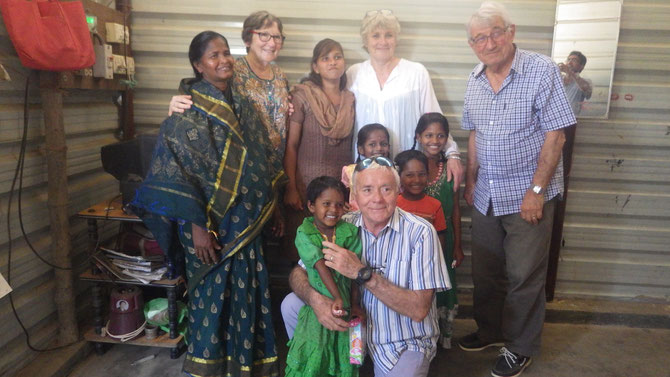 After a long drive through the country side we meet Livina Mary. She is 18 y.old and in 12th Std. She is a very good student and would like to be a nurse. Father Felix is looking for a school for her.
Livina Mary has 2 elder sisters, both married each one having a son. She has a younger sister and a younger brother.
Her mother is a widow and earns as a coolie only 3000 roupies.
The roof of this tiny hut has to be repaired …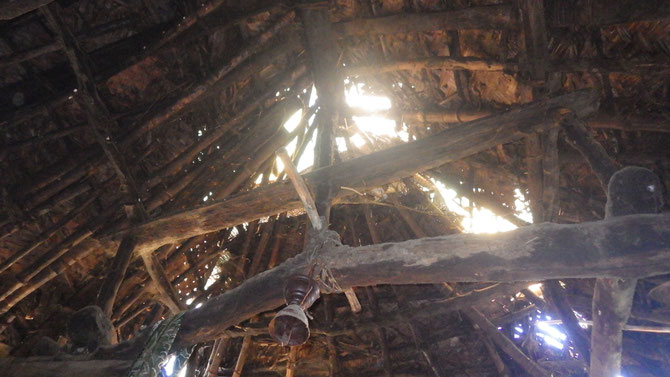 Afterwards we try to find the house of a family to be sponsored urgently, near the railway station: we will meet the family later on at Felix's.
28 th of march
On that day we had a break and visited the city of Pondicherry.
29th of march
We arrive at Felix's. Father Nithiya and Arul Oli are there.
This is the debriefing meeting for the Pondicherry/ Villupuram area.
Before starting the meeting we meet Immaculate Sophia: we explained to her our decision to advance the 50000 roupies (see above): this money will allow her to get the job she used to dream of. In front of all attendants we give the money to Father Felix who is asked to follow the case closely until its conclusion.
Immaculate Sophia's smile was a real reward to us : we would have liked  the sponsor to be present with us to witness her joy !!
Then we meet Valarmathy family. The father carries out painting works and earns 500 roupies per working day (average 10 days a month); the mother does not have good health, she uses to make and sell rice cakes .
They have 5 children, all are students (from 15 to 8 y.old). Father Felix follows closely this particular deserving family to be sponsored urgently.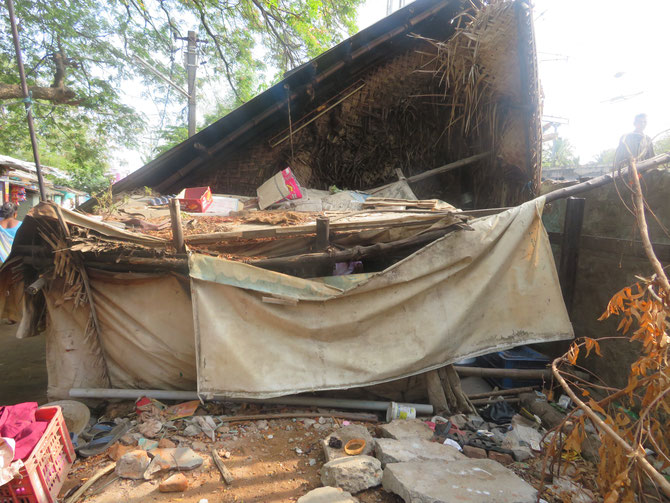 Before starting the debriefing meeting Father Felix was called to bless a brand new motor bike: its owner was reassured !!
We reviewed then one by one all families sponsored in the Puducherry/ villupuram area. We spend more time on some particular, difficult cases:
-          Sharmila with her exam in april,
-          Sivalingham (blind couple) waiting for the birth of a 3d child: Pierre and Monique will send them an extra for the birth.
-          Gomathy's husband: we are concerned about his health etc...
In conclusion we congratulate Arul Oli, Father Nithyia and Father Felix for the excellent organization and their warm welcome during our stay. As in Trichy we feel really at home when we visit Father Felix, Father Nithyia and Arul Oli. Each time Father Felix manages to organize the general meeting in his place and with the help of his excellent cook to provide food to everyone.
We have noticed during our numerous visits that the life of the families sponsored by our association has improved most of the times.

For example Kuppu, we can see the difference on the following photos : first one at the beginning of the sponsorship 2 years ago, second one in march 2017 !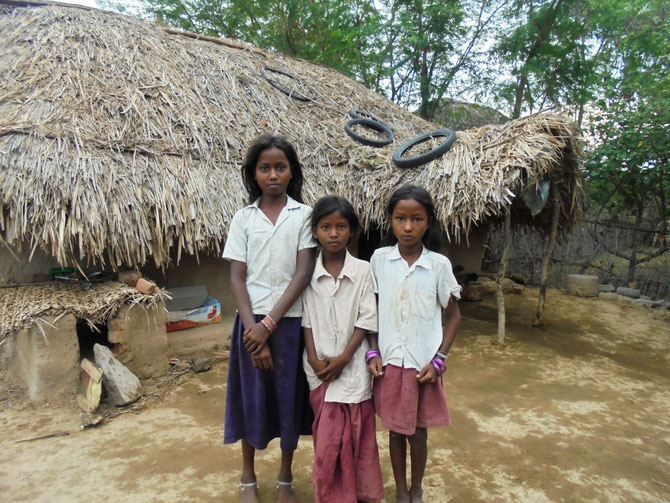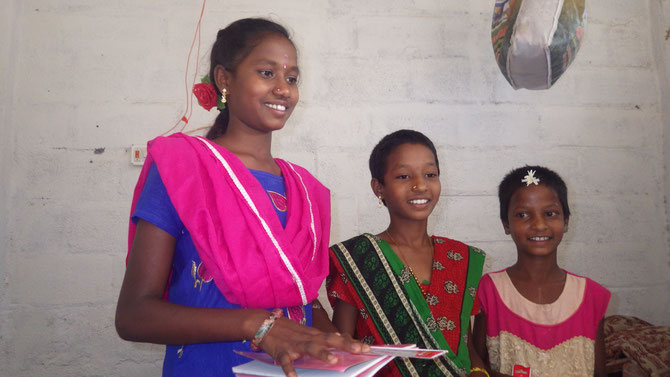 All families, in spite of the distance for some of them, have managed to come on sunday for the general gathering, only 2 could not make it: Christa and her wounded daughter and the blind couple.
We have spent 2 full very busy weeks visiting in their living places most of the families both in Trichy and Puducherry areas. We are a bit tired but very happy to meet all those deserving persons.
We had joys and sadness throughout our stay but our link with Tamil Nadu is getting stronger and stronger.
When we get back home in our cosy environment we will realize how lucky we are by comparison with what we have witnessed during our visit to Tamil Nadu.
Again meeting those poor people and seeing their smiles is very  rewarding.
What we have to do now upon our return to France is to find new sponsors !
We rely on all our sponsors to help us finding them !!